Former Supreme Court Justice John Paul Stevens Has Died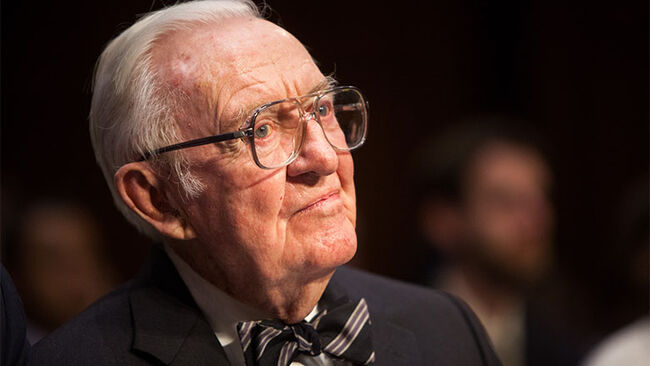 Former U.S. Supreme Court Justice John Paul Stevens has died. He passed away from complications of a stroke he suffered on Monday (July 15). He was 99.
Stevens was appointed to the bench in 1975 by President Gerald Ford and retired in 2010. He was the third-longest serving member in the high court's history and was a staunch defender of individual rights, routinely bucking conservative positions to side with liberals on the bench.
Stevens began his law career after serving in World War II as a code breaker. He made a name for himself going after corruption in Chicago. On the Supreme Court he wrote the dissenting opinions on a few landmark cases, including Citizens United v. FEC, which ruled that the government could not ban political spending by corporations, and Bush v. Gore, which handed the 2000 presidential election to George W. Bush.
Stevens did not shy away from the spotlight after he retired. He wrote several books and made many public appearances throughout the years. In 2017, he wrote an op-ed calling for the abolishment of the Second Amendment.
Photo: Getty Images

The Buck Sexton Show
Buck Sexton is a former political commentator for CNN, and previously served as national security editor for TheBlaze.com and host of "The Buck Sexton Show" on TheBlazeTV and TheBlazeRadio. He's a frequent guest host for The Rush Limbaugh Show,...
Read more